School Uniform
The children of our school like their uniform and wear it with pride. We believe firmly in school uniform because:
It is smart and distinctive
It encourages a positive view of the school and improves the child's attitude and hence their performance in the classroom
It prevents competition between children in what they wear (and it works out cheaper in the long run)
It encourages a sense of belonging to the school
It stops arguments in the morning about what the child is going to wear
It is important that children have separate P.E kit to change into. This should be available in school at all times, for P.E activities, and stored in a drawstring bag.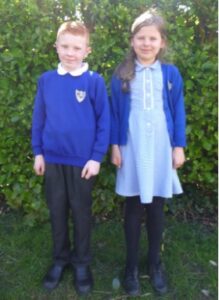 This kit should include:
White t-shirt or polo shirt or the Roskear blue PE t-shirt (the Roskear t-shirt can be ordered from Trophy Textiles in Pool)
Navy blue or black shorts
Black plimsolls (for indoor PE)
Trainers (for outdoor PE )
Football boots (for after school clubs)
During colder weather:
Navy blue or black jog suit:- sweatshirt and jog bottom ( logo optional however if you wish to purchase a black hoodie with the Roskear logo these can be ordered from Trophy Textiles).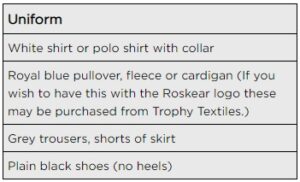 All new children are provided with their first Roskear hoodie and PE t-shirt free of charge. Please see the office team who will place an order for you. 
Note:
All items of clothings must be clearly marked with your child's name.
No jewellery, including earrings should be worn to school as there potentially dangerous to all children.
Studs for pierced ears may be worn but these should be removed for swimming and PE.