Joining Reception
We would like to extend a warm welcome to all the children starting Roskear Primary & Nursery School in September 2023.
We know that starting school is a very special time for you and your child and we do know it can also be quite a daunting time, as well. With a little preparation and encouragement, we want to help your child make a smooth transition from home to school, settle in easily and be ready to learn.
Children will start school with a wide range of abilities and our staff are skilled at helping children progress at their own level. Your child's transition into education is an exciting time for the whole family and you and your child may have questions about how life is going to change. What will primary school life be like? What can you do to prepare yourself and your child for the very best start?
 We hope you find the following information useful in helping you to prepare for your child starting school in September.
We have included links to many relevant websites which will support you and your child prepare for school.
Please do not hesitate to contact me should you require any further support.
Kind Regards,
Mrs Lagdon,
Deputy Headteacher & Early Years Foundation Stage Leader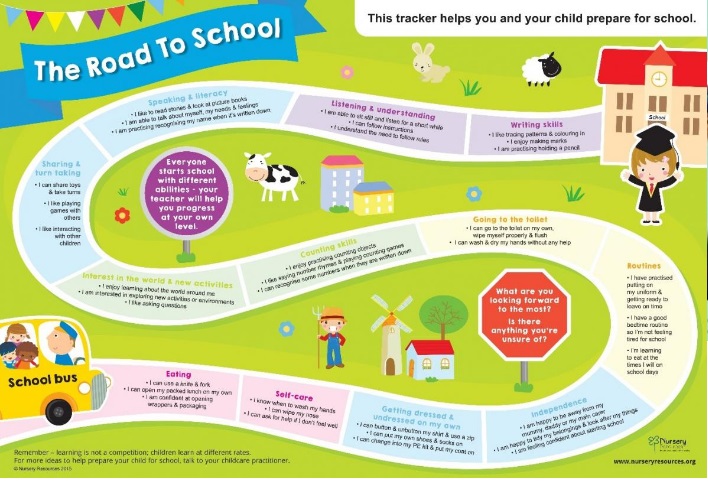 When do children learn to count and how to help them…
Reading Corner
We like to share favourite stories with our friends or one of the class 'reading buddy dinosaurs'.
We take part in the daily vote and choose which favourite story to read.
Reading is fun!
Maths
We can explore the mathematical resources and games to develop understanding. We measure and compare ribbon lengths, spoons, our feet and we even like counting sprouts!
Writing and mark making
We love to write…messages, lists, stories and letters to the fairies!
We use the RWI sound mat to help us.
Construction
We like to design and build models in the garden with our friends. We can build princess castles, towers, cars, bridges and we like to draw and write about them in our 'marvellous models' book.